A medianoche is a popular sandwich typically eaten as a snack, lunch or after a night of partying. Medianoche translates to midnight and this sandwich can be found in cafeterias and restaurants all over Miami. Some call it the Cuban sandwich's cousin because they're almost identical.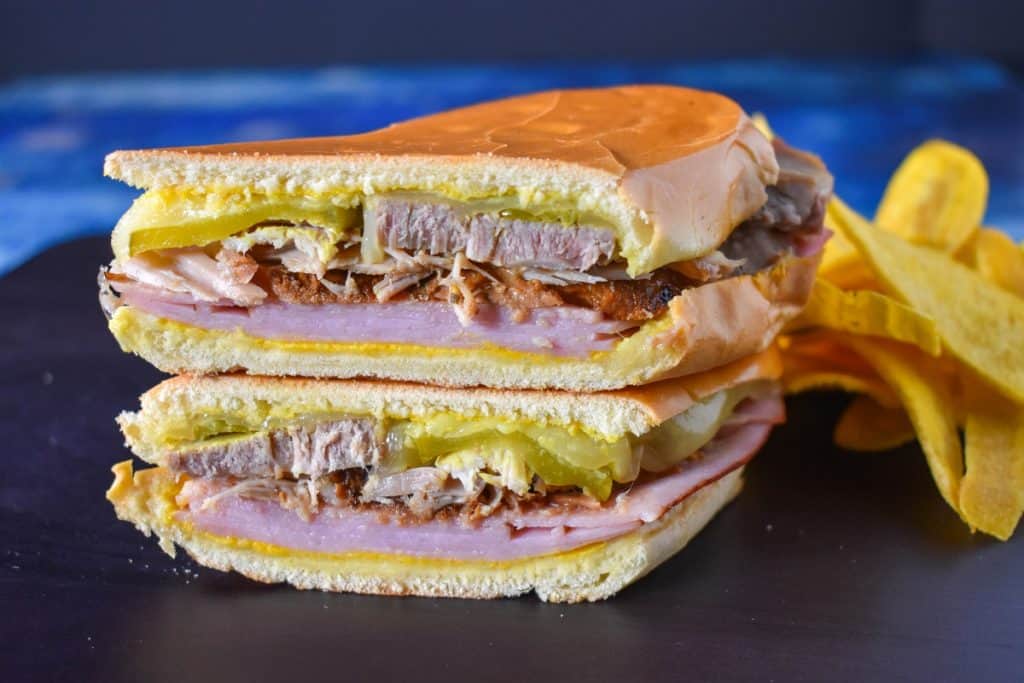 What's the difference between a Cuban sandwich and a medianoche?
Both sandwiches contain ham, roast pork, pickles, swiss cheese and mustard. The difference between a Cuban sandwich and a medianoche is the bread used to make the sandwich. A Cubano is made with Cuban bread and a midnight sandwich is made with slightly sweet, egg bread.
This site contains affiliate links to products. As an Amazon Associate I earn from qualifying purchases.
What you need for a medianoche
Roast Pork – here's a fantastic Cuban roast pork recipe.
Sweet Ham – have it sliced a little on the thick side.
Swiss Cheese
Sliced Dill Pickles
Yellow Mustard
Medianoche Rolls
Butter – to brush on top prior to pressing
Substitutions:
If you don't have time to roast a pork shoulder you can take a short cut and make a couple pork tenderloins.
Put together the mojo marinade.
Marinate the pork tenderloins for a few hours to overnight.
Remove them from the bag and discard the marinade.
Grill the tenderloins until the internal temperature reaches at least 165°F at the thickest part. Grill time will vary, but as a guide it takes us approximately 50 minutes on moderate-low heat on a gas grill.
Allow the pork tenderloins to cool, and slice.
If you can't find medianoche rolls substitute bread that has a little sweetness to it. Options include Challah, brioche and even Hawaiian sweet rolls if you're in a pinch.
Press the sandwich
Just like the Cuban sandwich, a medianoche is brushed with a little bit of softened butter and pressed until the bread is golden and toasty and the cheese is melted.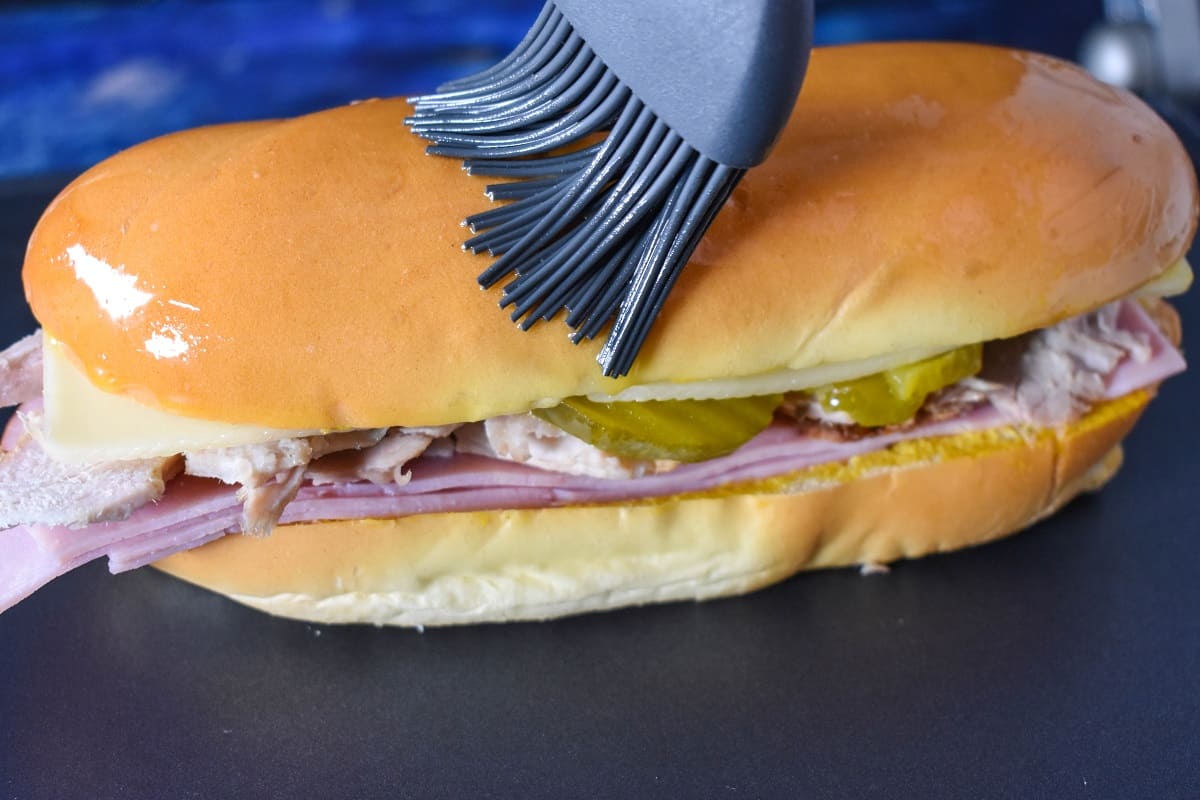 Typically, the sandwich is pressed using a plancha or panini maker. If you don't have a sandwich press you can use a large skillet instead. Here's how:
Heat a large, heavy skillet on medium to medium-low heat. Place the medianoche on the skillet and place another heavy skillet, large lid or cast iron bacon press on top and press down gently. When the bread is toasted, flip the sandwich and repeat until the other side is toasted and the cheese is melted.
This recipe makes one sandwich. To make more just double, triple, quadruple, etc. Or, if you're serving these at a party, make as many as needed, cut them into 3 or 4 pieces instead of in half, secure each piece with a toothpick and arrange on a serving tray.
You may also like these popular sandwiches:
Print Recipe
Medianoche
A medianoche is a popular sandwich typically eaten as a snack, lunch or after a night of partying.
Ingredients
1

Medianoche Roll

use Challah, brioche or Hawaiian sweet rolls if you can't find medianoche rolls

½

teaspoon

Yellow Mustard

or to taste

3–4

slices

Sweet Ham

(approximately 4 – 5 ounces)

3–4

ounces

Roast Pork

sliced

6–8

Dill Pickle Chips

2

slices

Swiss Cheese

(approximately 2 ounces)

½

teaspoon

Butter

softened
Instructions
You will also need: pastry brush, sandwich press or panini maker
Build the medianoche
Slice the roll open.

Lay the bread open and spread the top with mustard.

Layer the ham on the bottom.

Add the sliced roast pork

Add the pickles, staggered to cover almost the entire area, so that every bite contains pickle.

Top with Swiss cheese and cover with the bread.

Heat the sandwich press to medium.

Brush the top of the roll lightly with the softened butter.

Gently place the sandwich on the preheated surface and press the top down. Don't press too hard, just place it and let the weight and gravity start flattening the sandwich. Let the sandwich cook until the bread is slightly toasted and the cheese has melted, about 7-10 minutes. Keep an eye on it and check it after 5 minutes to gauge the remaining time.

Cut the medianoche in half at an angle and serve.
Nutrition
Calories:
982
kcal
|
Carbohydrates:
52
g
|
Protein:
67
g
|
Fat:
55
g
|
Saturated Fat:
20
g
|
Cholesterol:
319
mg
|
Sodium:
3363
mg
|
Potassium:
796
mg
|
Fiber:
5
g
|
Sugar:
13
g
|
Vitamin A:
447
IU
|
Calcium:
454
mg
|
Iron:
5
mg
The nutritional information above is computer generated and is only an estimate. There is no guarantee that it is accurate.This data is provided as a courtesy for informational purposes only.