Pan con lechon is a roast pork sandwich that's really popular in South Florida and it's a delicious way to use leftover roast pork.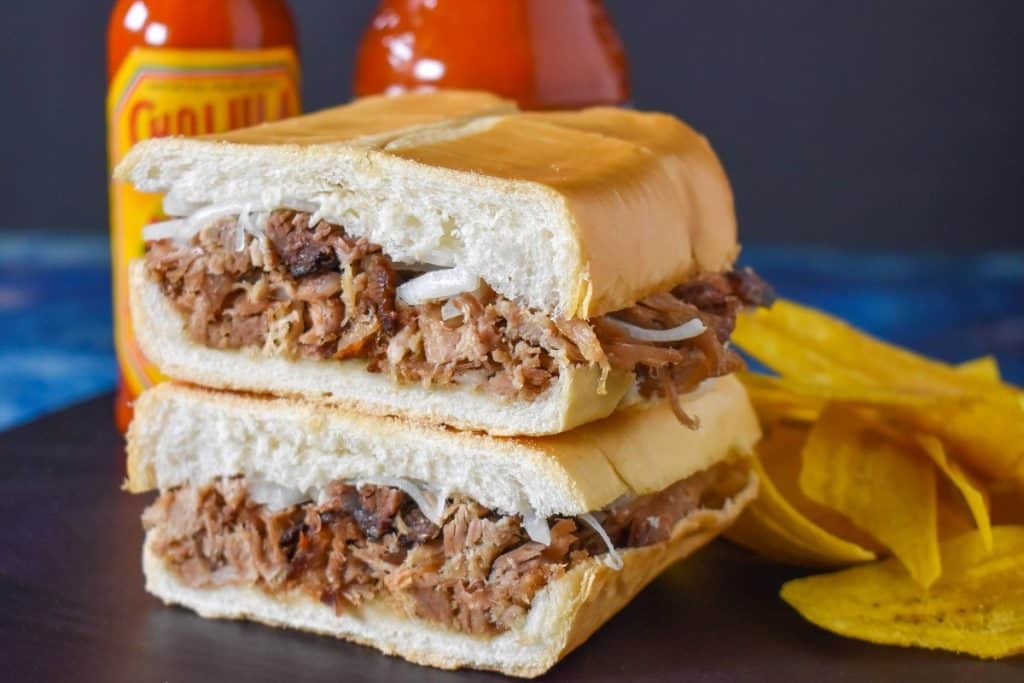 This site contains affiliate links to products. As an Amazon Associate I earn from qualifying purchases.
Pan con lechon translates to bread with roast pork, which is appropriate because those are the star ingredients. Add some sliced onions and mojo sauce to top it off.
The Roast Pork "Lechon"
Pan con lechon is tradition in our house the day after we make roast pork, which is just about on all special occasions, Christmas Eve, New Year's Eve, Mother's Day always include lechon. That means the next day we make this delicious sandwich.
Use your favorite pork roast recipe to make this sandwich, and if you don't have one here's my family's Cuban roast pork recipe which features a homemade mojo marinade. It's delicious!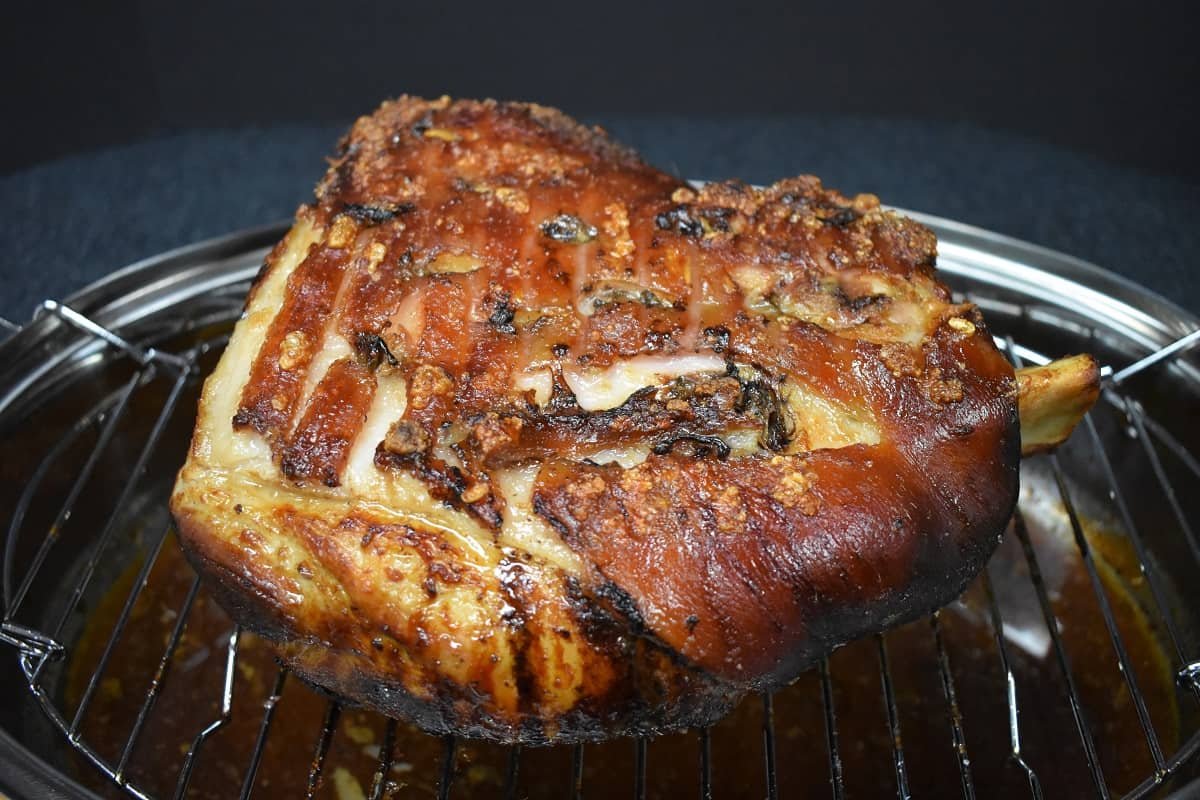 If desired, reserve a couple of tablespoons of mojo after making it to add a little to the pan con lechon. Only use mojo that has not been used to marinate the pork. Any leftover marinade should be discarded. You can also find pretty good bottled mojo; just add a little bit to the pork when heating it up or before pressing it.
For a Cuban sandwich the pork is typically sliced, but for pan con lechon it's pulled or chopped.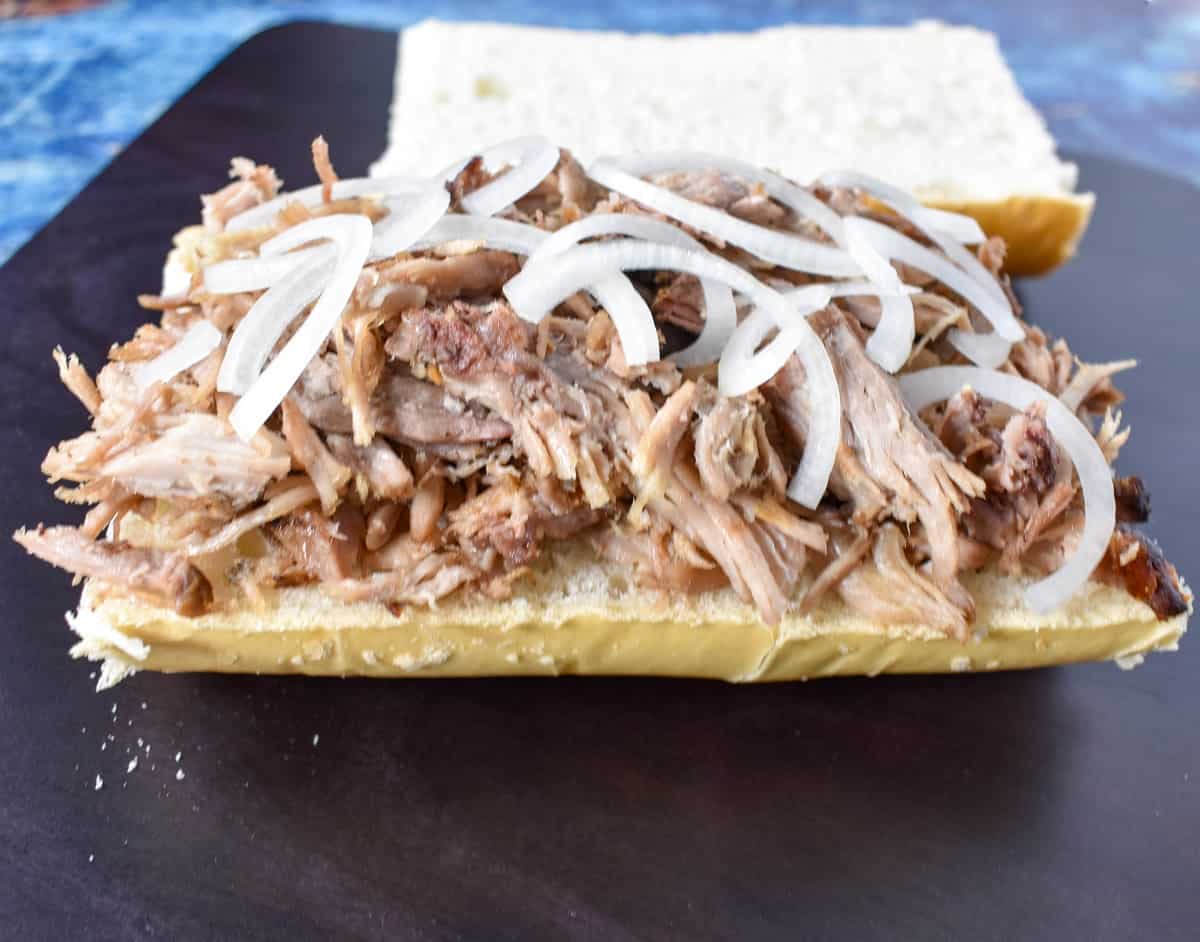 The Bread
Traditionally the bread used for this sandwich is Cuban bread, but unless you're in South Florida it can be difficult to find. If you need a substitute, use bread that's wide, crusty on the outside and soft and fleshy on the inside. Italian bread works well, so does a wide French bread (not a baguette). The sandwich will be pressed which will create a crusty exterior.
Press the sandwich
Once the sandwich is made use a pastry brush to apply a little bit of softened butter and press until lightly golden and toasty.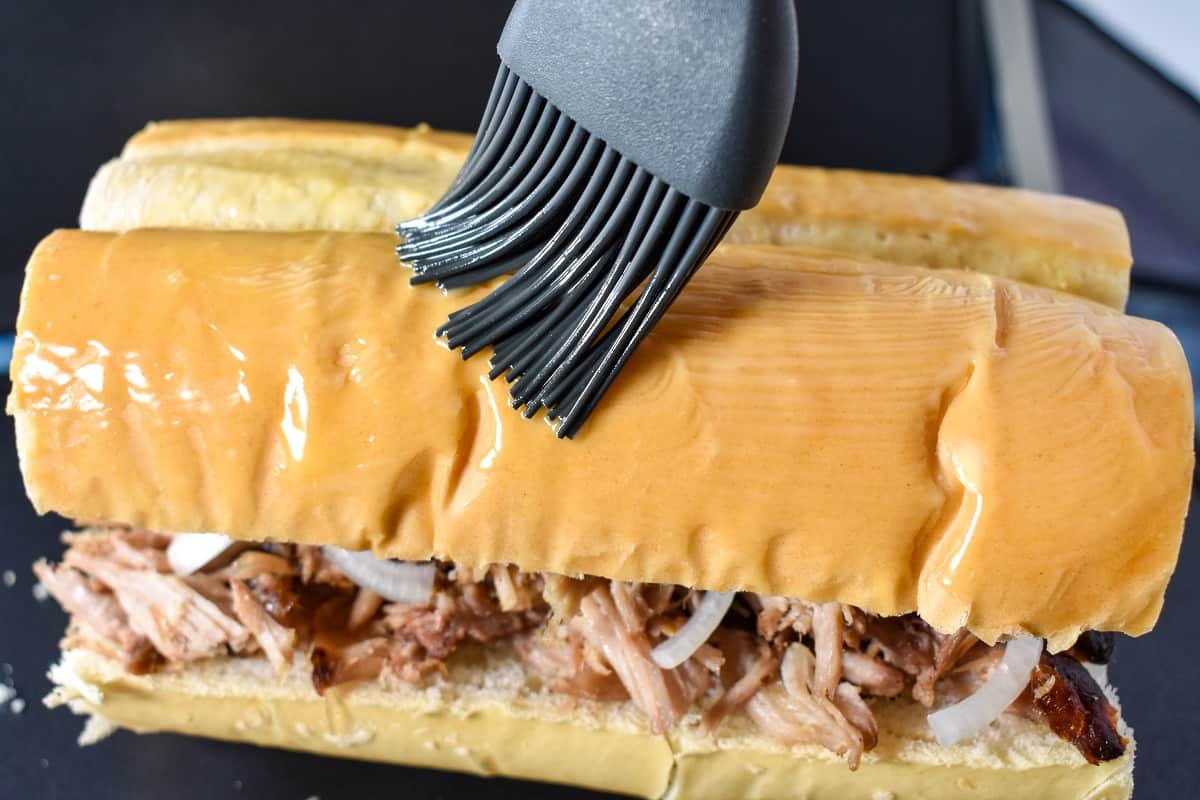 If you don't have a sandwich press you can use a large skillet to toast the sandwich. Here's how:
Heat a large, heavy skillet on medium to medium-low heat. Place the sandwich on the skillet and place another heavy skillet, large lid or cast iron bacon press on top and press down gently. When the bread is toasted, flip the sandwich and repeat until the other side is toasted.
This recipe makes one sandwich. To make more just double, triple, quadruple…you get it. Enjoy!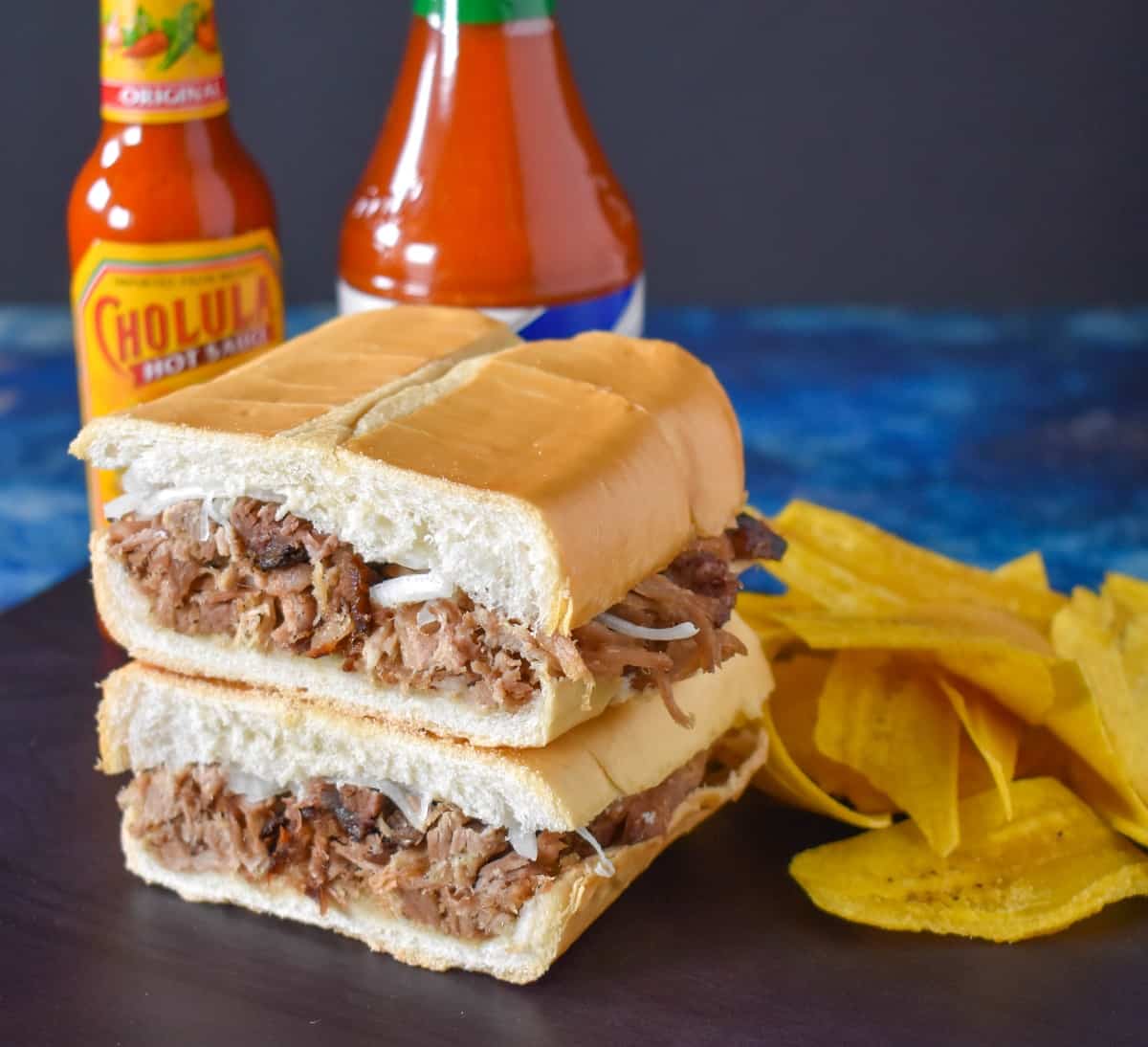 You may also like these popular Cuban recipes: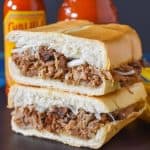 Print Recipe
Pan con Lechon
Pan con lechon is a roast pork sandwich that's really popular in South Florida and it's a delicious way to use leftover roast pork.
Ingredients
1

Loaf

Cuban Bread

cut into a 6 – 8 inch piece (use Italian or French if you can't find Cuban bread)

6–8

ounces

Cooked Roast Pork

chopped or shredded

2

tablespoons

Thinly Sliced Onions

we used a yellow onion, a white onion will work too

1

teaspoon

Mojo Sauce

optional

½

teaspoon

Butter

softened
Instructions
You will also need: pastry brush, sandwich press or panini maker
Build the Pan con Lechon
If you're using leftover pork: Heat it in a skillet over medium heat until warmed through, stirring frequently. Add a teaspoon of mojo sauce while reheating, if desired.

Cut the Cuban bread into a 6 – 8 inch piece and slice it open.

Lay the bread open and arrange the pork so it covers the bottom half of the bread.

Arrange a thin layer of onions on the pork.

Add mojo sauce, if using. (Unless used to reheat the pork)

Top with sandwich with the bread.

Preheat the sandwich press to medium.

Brush the top of the sandwich lightly with the softened butter.

Gently place the sandwich on the preheated surface and press the top down. Don't press too hard, just place it and let the weight and gravity start flattening the sandwich. Let it cook until the bread is nice and toasted, about 7 – 10 minutes. Keep an eye on it and check it after 5 minutes to gauge the remaining time.

Cut the sandwich in half and serve.
Nutrition
Calories:
581
kcal
|
Carbohydrates:
66
g
|
Protein:
41
g
|
Fat:
16
g
|
Saturated Fat:
6
g
|
Cholesterol:
98
mg
|
Sodium:
706
mg
|
Potassium:
617
mg
|
Fiber:
3
g
|
Sugar:
4
g
|
Vitamin A:
62
IU
|
Vitamin C:
3
mg
|
Calcium:
69
mg
|
Iron:
6
mg
The nutritional information above is computer generated and is only an estimate. There is no guarantee that it is accurate.This data is provided as a courtesy for informational purposes only.