These hot and flaky, hand pies are filled with a delicious and flavorful taco filling. We use ground turkey that's seasoned with a southwestern-inspired seasoning blend, black beans, corn and just a little bit of Monterey Jack cheese and green onions. They're perfect for your game-day appetizer table, or as something different for Taco Night. Serve the taco hand pies with a side sour cream and plenty of hot sauce. If you're a fan of tacos, (and who isn't) try these shredded beef tacos or these cilantro lime shrimp tacos for a deliciously different take on a family favorite. Enjoy!​
Ingredients
½ tbsp. Chili Powder
1 tsp. Kosher Salt, or to taste
1 tsp. Garlic Powder
½ tsp. Onion Powder
½ tsp. Cumin
¼ tsp. Black Pepper, or to taste
1 tbsp. Canola Oil, or use your favorite vegetable oil
1 lb. Ground Turkey
8 oz. can Tomato Sauce
2 tbsp. Water, divided
¼ cup Black Beans, drained and rinsed
¼ cup Corn, drained and rinsed (canned) or cooked to package directions (frozen)
1 Large Egg
Flour, for the work surface
1 box Refrigerated Pie Crusts (14 oz.)
1 cup Monterey Jack Cheese, finely shredded
1-2 tbsp. Green Onions, sliced thin
You will also need
Large baking sheet
Parchment paper
Large biscuit cutter or 28 oz. can, clean with both ends cut out
Rolling pin
Pastry brush
Fork
Make the taco filling
Add the chili powder, salt, garlic powder, onion powder, cumin and black pepper in a small bowl, stir to combine well. Set aside.
Heat the canola oil in a large skillet over medium-high heat. Add the ground turkey to the skillet, sprinkle with the prepared seasoning mix. Stir, to mix well. Cook the ground turkey until browned, approximately 4-5 minutes, stirring frequently and breaking up the ground turkey with a wooden spoon or spatula.
Add the tomato sauce and 1 tbsp. water, stir well to combine. Lower the heat to medium-low, cover and cook about 15 minutes, stirring occasionally. (I like to add the water to the empty can of tomato sauce and give it a swirl. That way we get every drop out of the can.)
Add the black beans and corn to the taco meat and give everything a good stir. Cook, covered just 3-4 more minutes so all the flavors come together. Take the skillet off the heat, uncover and let the taco filling cool a bit. Once it has cooled, place it in a large bowl and refrigerate while you prepare to make the hand pies.
Make the taco hand pies
Preheat Oven to 400°F
Line a large baking sheet with parchment paper.
Remove the pie crusts from the refrigerator 15-20 minutes before using. Prepare a small bowl with the egg and 1 tbsp. of water, beat well with a fork.
Cook's Note: To make the pie rounds use a large biscuit cutter or, I use an empty 28 oz. can with both ends removed.
Sprinkle a little bit of flour on a large cutting board or a clean surface. Lay out one pie crust dough. Using the can or biscuit cutter, cut out the rounds. Roll it gently to make each round just a little thinner and a little larger. Re-roll the dough scraps, flatten to roughly the same thickness of the original and cut out the remaining rounds.
Working with one round at a time, add a tablespoon of taco filling in the middle of the round. Add a pinch of cheese and a pinch of the sliced green onions.
Using a pastry brush (or your finger) moisten around the edges of the dough with the egg. Fold the dough round in half, press the edges together gently. Crimp the edges using a fork.
Place the taco hand pie on the parchment paper lined baking sheet. Repeat with the remaining ingredients.
Brush the top of the taco hand pies lightly with the egg. Make 2-3 small slits on the top of each hand pie, use a paring knife.
Bake the taco hand pies for approximately 15-25 minutes, until they are a nice golden color. Check them after the first 15 minutes, then add 5 minutes at a time until they reach the desired color.
Makes approximately 20 taco hand pies
Cook's Notes:
If you have any remaining taco meat, refrigerate. Use the leftovers to make a couple of soft tacos for lunch or make a great Southwestern Taco Salad.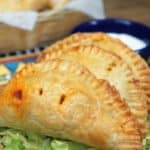 Print Recipe
Taco Hand Pies
These hot and flaky, hand pies are filled with a delicious and flavorful taco filling. They're perfect for your game-day appetizer table, or as something different for Taco Night.
Ingredients
½

tbsp.

Chili Powder

1

tsp.

Kosher Salt

or to taste

1

tsp.

Garlic Powder

½

tsp.

Onion Powder

½

tsp.

Cumin

¼

tsp.

Black Pepper

or to taste

1

tbsp.

Canola Oil

or use your favorite vegetable oil

1

lb.

Ground Turkey

8

oz.

can Tomato Sauce

2

tbsp.

Water

divided

¼

cup

Black Beans

drained and rinsed

¼

cup

Corn

drained and rinsed (canned) or cooked to package directions (frozen)

1

Large Egg

Flour

for the work surface

1

box Refrigerated Pie Crusts

14 oz.

1

cup

Monterey Jack Cheese

finely shredded

1-2

tbsp.

Green Onions

sliced thin
Instructions
Add the chili powder, salt, garlic powder, onion powder, cumin and black pepper in a small bowl, stir to combine well.

Heat the canola oil in a large skillet over medium-high heat. Add the ground turkey to the skillet, sprinkle with the prepared seasoning mix. Stir, to mix well.


Cook the ground turkey until browned, approximately 4-5 minutes, stirring frequently and breaking up the ground turkey with a wooden spoon or spatula.

Add the tomato sauce and 1 tbsp. water, stir well to combine. Lower the heat to medium-low, cover and cook about 15 minutes, stirring occasionally.

Add the black beans and corn to the taco meat and give everything a good stir. Cook, covered just 3-4 more minutes so all the flavors come together.

Take the skillet off the heat, uncover and let the taco filling cool a bit. Once it has cooled, place it in a large bowl and refrigerate while you prepare to make the hand pies.

Preheat Oven to 400°F and Line a large baking sheet with parchment paper.

Remove the pie crusts from the refrigerator 15-20 minutes before using.


Prepare a small bowl with the egg and 1 tbsp. of water, beat well with a fork.

Make the pie rounds, use a large biscuit cutter or, I use an empty 28 oz. can with both ends removed.

Sprinkle a little bit of flour on a large cutting board or a clean surface. Lay out one pie crust dough. Cut out the rounds. Roll it gently to make each round just a little thinner and a little larger. Re-roll the dough scraps, flatten to roughly the same thickness of the original and cut out the remaining rounds.

Working with one round at a time, add a tablespoon of taco filling in the middle. Add a pinch of cheese and a pinch of the sliced green onions.

Using a pastry brush (or your finger) moisten around the edges of the dough with the egg. Fold the dough round in half, press the edges together gently. Crimp the edges using a fork.

Place the taco hand pie on the parchment paper lined baking sheet. Repeat with the remaining ingredients.

Brush the top of the taco hand pies lightly with the egg. Make 2-3 small slits on the top of each hand pie, use a paring knife.

Bake the taco hand pies for approximately 15-25 minutes, until they are golden. Check them after the first 15 minutes, then add 5 minutes at a time until they reach the desired color.

Makes approximately 20 taco hand pies
Nutrition
Calories:
211
kcal
|
Carbohydrates:
12
g
|
Protein:
16
g
|
Fat:
10
g
|
Saturated Fat:
4
g
|
Cholesterol:
51
mg
|
Sodium:
482
mg
|
Potassium:
293
mg
|
Fiber:
1
g
|
Sugar:
1
g
|
Vitamin A:
9.3
%
|
Vitamin C:
2.5
%
|
Calcium:
10.1
%
|
Iron:
9
%