This salad is so good you won't mind having a salad for dinner. With simply-seasoned grilled chicken, strawberries, blueberries and toasted almonds all sitting on top of a bed of crisp lettuce, this Berry Chicken Salad is sure to please. The best part of this salad though, is the homemade Blueberry dressing – which is absolutely delicious!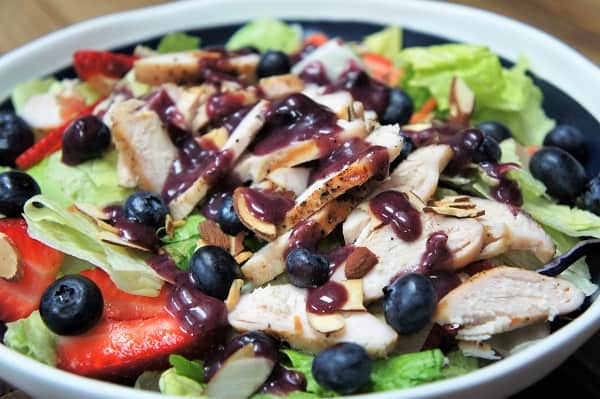 ​Blueberry Dressing Ingredients
½ cup Extra Virgin Olive Oil
¼ cup Apple Cider Vinegar, raw and unfiltered
¼ cup Blueberry Preserves
1 tbsp. Honey
¼ tsp. Onion Powder
¼ tsp. Kosher Salt
¼ tsp. Black Pepper
Chicken Ingredients
1 lb. Chicken Breast (2 chicken breasts)
1 tsp. Kosher Salt
¼ tsp. Black Pepper
Salad Ingredients
12-16 oz. Lettuce Mix (we used prepackaged salad mix)
8 Strawberries, sliced
1 cup Blueberries
¼ cup Sliced Almonds, toasted
Make the blueberry dressing
Add all the blueberry dressing ingredients to a small mixer (like a Nutribullet), or a blender. Blend until all of the ingredients are incorporated. Pour the dressing into a dispenser or jar and refrigerate until ready to use. Stir or shake the dressing well before each use.
Grill the chicken
Cut each chicken breast in half, lengthwise, to make 4 thinner pieces. Sprinkle the chicken with the salt and pepper.
Grill the chicken over moderate to moderate-low heat until the internal temperature is at least 165°F at its thickest part. Cooking time will depend on the thickness of the chicken. When the chicken has cooled enough to handle, cut each breast into thin strips. Refrigerate until ready to use, if desired.
Toast the almonds
Place the almonds in a non-stick skillet over medium heat; cook gently for about 5-6 minutes until the almonds are lightly golden. Shake the skillet often and keep an eye on them so they don't burn. Remove the skillet from the heat and set aside.
Build the berry chicken salad
Divide all the salad ingredients into four portions. Add the lettuce to 4 individual bowls. Top with the chicken, strawberries, blueberries and almonds.
Serve the berry chicken salad with the homemade blueberry dressing. Enjoy!
Makes 4 Salads