Grilled corn is a summer essential. It's bountiful too, which means it's cheap and it's everywhere! Perfect for that barbeque party you're hosting this year. Here we grill the corn in their husks, then dress them up with crema, chili powder, cheese, and fresh chopped cilantro. Delicioso!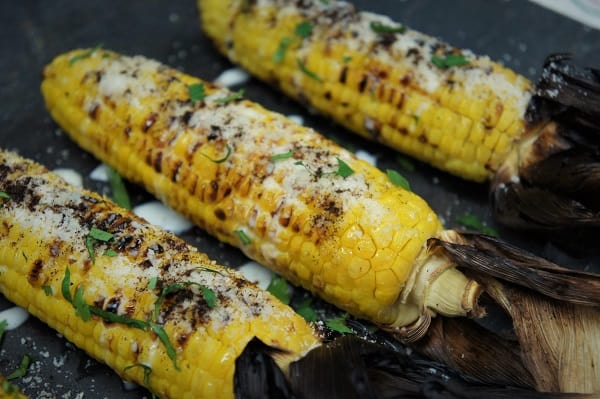 Ingredients
Fresh Corn, in their husks (as many as needed)
Butter, melted
Parmesan Cheese, grated
Chili Powder
Crema or Sour Cream
Cilantro, chopped
Prepare the corn
Leave the husks on the corn.
Soak the corn cobs, in a large pot, completely submersed in water for at least 30 minutes. Drain the water. Remove a few corn husks from the outer layer. Don't remove all the husks, leave a couple of layers on. The corn will cook in the husks without the outside charring too much.
Make the grilled corn
Preheat the barbeque to moderate to moderate-low heat.​
Grill the corn, in their husks over medium to medium-low heat for 30 minutes or so, turning occasionally. If any of the husks fall off, remove them using tongs so they don't catch fire on the grill. Towards the end of the grilling time, use tongs to peel back some of the husks if you want to get a nice char on some parts of the corn.
Melt the butter, we used the microwave for convenience, but a small saucepan works well too. Just keep an eye on it; the butter will melt in no time. Take the pan off the heat and set aside until ready to use.
Peel the husk off the corn, use a clean kitchen towel to hold, it will be hot. Wipe the corn lightly to get the thin silk off. Pull the husks all the way back, or remove them completely.
Brush the grilled corn with the melted butter. Add a generous amount of the crema (or sour cream). Sprinkle the corn with the Parmesan cheese and chili powder, garnish with fresh chopped cilantro and serve.
Eat quickly, maybe you can get seconds. Enjoy!