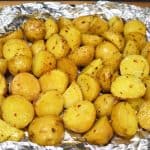 Print
Grilled Potatoes
These grilled potatoes make a great side dish for summer cook-outs.
1½

pounds

Small Honey Gold Potatoes

cut in half or quarters depending on their size

2

tablespoons

Canola Oil

1

teaspoon

Kosher Salt

½

teaspoon

Dry Minced Onion

dehydrated minced onion

¼

teaspoon

Garlic Powder

¼

teaspoon

Dried Oregano

¼

teaspoon

Crushed Red Pepper

or to taste

Pinch

of Black Pepper

or to taste
You will also need: Heavy duty aluminum foil and Grill spray
Prep Work
Cut the potatoes in half or quarters, depending on their size. They should all be roughly the same size so they cook at the same rate.

Add the salt, dried minced onion, garlic powder, oregano, crushed red pepper and black pepper in a small bowl. Stir the seasoning mix to combine.

Add the cut potatoes and canola oil to a large bowl and toss well to coat.

Sprinkle the potatoes with the prepared seasoning mix and toss them again until they're coated in the seasoning.
Make the foil pack for the potatoes
Cut a piece of foil approximately 24 inches long. Place the foil, dull side up, on a flat surface widthwise.

Cut another piece of foil, approximately 20 inches long and place it (dull side up) lengthwise over the other piece.

Add the potatoes in the middle of the foil, along with any oil and seasoning left in the bowl.

Fold in the lengthwise piece to cover the potatoes.

Then bring up the widthwise piece, join at the top and crimp to seal.

Finally, tuck in the sides to finish the foil pack.
Grill the potatoes
Preheat the grill on moderate to moderate-low heat. Use grill spray to minimize sticking.

Grill the potatoes over moderate to moderate low heat for 40-45 minutes.

Give the foil packet a gentle shake every once in a while. Use tongs to grab the top of the foil pack and gently slide it back and forth a couple of times.

When the potatoes are ready, carefully open the foil packet. There will be a lot of steam accumulated in there so take care when opening.

Insert the tip of a sharp knife into one of the larger potato pieces. If the knife slides in without any resistance, they're done. If they're not done, close the packet again and continue grilling.
Calories:
163
kcal
|
Carbohydrates:
21
g
|
Protein:
4
g
|
Fat:
7
g
|
Sodium:
600
mg
|
Potassium:
712
mg
|
Fiber:
4
g
|
Vitamin A:
35
IU
|
Vitamin C:
19.9
mg
|
Calcium:
51
mg
|
Iron:
5.6
mg