These peppermint meringue cookies are the perfect little sweet treat for the holidays. They're pretty easy to make too, and only require a few ingredients. Another plus, you get a nice big batch, perfect for parties or to give as gifts.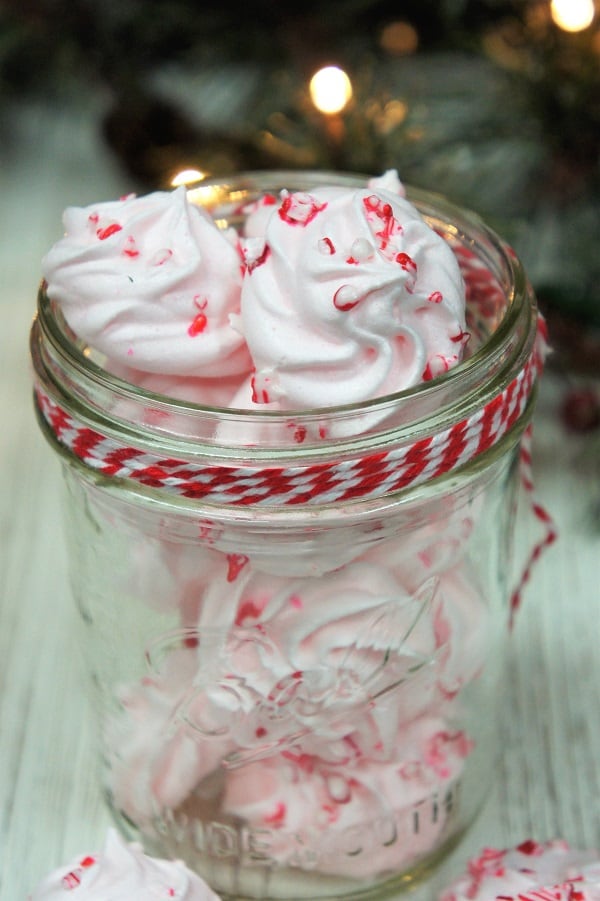 Ingredients
4 Egg Whites, at room temperature
½ tsp. Cream of Tartar
1 ¾ cups Sugar
¼ tsp. Salt
¼ tsp. Peppermint Extract
Crushed Peppermint Candy
Red Food Coloring
Instructions
Allow the egg whites to come to room temperature before starting the meringues.
Preheat oven to 200°F
Line 2 baking sheets with parchment paper
In a stand mixer, beat the egg whites and cream of tartar on high speed until foamy.
Add the sugar gradually, 2-3 tablespoons at a time – continuing beating while adding the sugar. When approximately half of the sugar has been used, add the peppermint extract and salt. Continue beating until all of the sugar has been added and peaks become stiff and the meringue is glossy. Add a couple of drops of the red food coloring and mix, on high, until the meringue becomes a soft pink color.
Spoon the meringue into a pastry bag fitted with a large tip (star or round), use a large plastic zip top bag and cut a small hole at the tip or use a spoon. Be warned, this is sticky stuff!
Pipe (or spoon) the meringue onto the parchment lined baking sheets, making small to medium rounds. Sprinkle the top of each meringue cookie with a pinch of crush peppermint candy.
Bake the peppermint meringue cookies for approximately 1 ½ – 2 hours (depending on the size) until they're set. After one hour or so, rotate the pans (top to bottom, bottom to top).
Turn the oven off and leave the meringue cookies in the oven for a couple of hours or overnight until the cookies are dry.
Cook's Notes:
If you prefer a soft, marshmallow-like center, don't leave the cookies in the oven to dry, serve them right away.