Asparagus is one of my favorite vegetables. It's delicious and beautiful, with its vibrant green color and pretty tips that look like flowers. Even my teenage son likes it, which is saying something! The best thing about asparagus is that it's easy to prep and quick to cook. When they're in season they're supper affordable too. In this recipe, asparagus spears are simply seasoned with olive oil, salt and pepper and grilled on a homemade tray. Make these grilled asparagus next time you barbeque, they'll become one of your favorite side dishes. Enjoy!
Ingredients
½ lb. Asparagus, about 12 spears, tough ends removed
1-2 tsp. Extra Virgin Olive Oil
¼ tsp. Coarse Salt, or to taste
Pinch of Black Pepper, or to taste
You will also need:
Heavy Duty Aluminum Foil
Trim the tough asparagus ends
Bend the asparagus spear, holding the bottom end and the middle. Apply a little pressure and the tough end should snap right off, discard the tough ends.
Build an aluminum foil tray
Cut a piece of aluminum foil that is large enough to fit all of the asparagus. Fold the edges a couple of times to form a sturdy rim.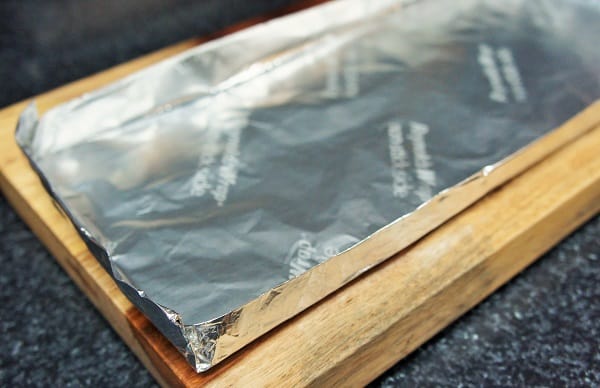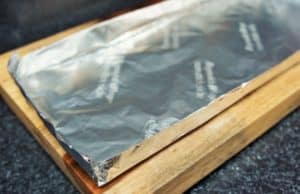 Season the asparagus spears
Brush the aluminum tray with a little bit of the olive oil. Arrange the asparagus on the aluminum tray without overlapping. Brush the asparagus with the olive oil, roll them a little bit to get the olive oil on all sides. Sprinkle the asparagus with the salt and black pepper, again, rolling them back and forth a little to get the seasoning on all sides.
Cook the asparagus on the aluminum tray on a preheated grill, over low heat for approximately 10 minutes or until the desired tenderness is reached.
Serve the grilled asparagus with your favorite barbeque meal. Enjoy!