This blackened chicken & creamy pasta is a quick, affordable and delicious dinner your family will love. Chicken breast are simply seasoned with blackening seasoning and cooked in just a little bit of oil. Then we make an easy, creamy sauce using whole milk instead of cream to keep things on the lighter side. Add cooked pasta and that is it, dinner is done. You get a nice large skillet of creamy, filling goodness. Enjoy!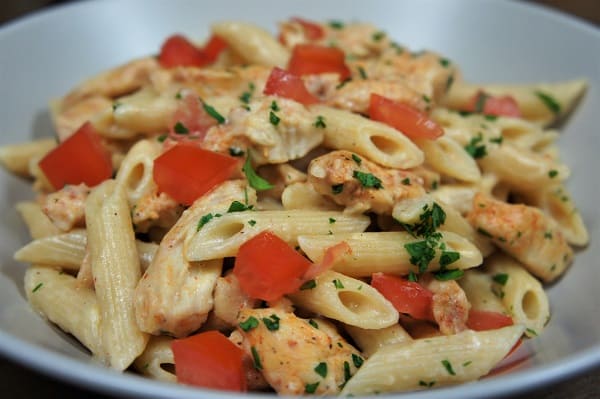 Ingredients
1 tbsp. Olive Oil
1 lb. Chicken Breast, boneless, skinless, cut into bite sized pieces
1 tbsp. Blackening Seasoning
2 Garlic Cloves, minced
2 tbsp. Butter
2 tbsp. Flour (all purpose)
2 cups Whole Milk
2 tbsp. Parmesan Cheese, grated + extra for serving
12 oz. Penne Pasta, cooked to package directions for al dente
1-2 tbsp. Kosher Salt for the Pasta Water
1-2 tbsp. Parsley, Chopped
1 Large Tomato, seeded and diced
Instructions
Bring a large pot of water to a boil over high heat.
Cut the chicken into bite sized pieces and season it with the blackening seasoning. Stir well to coat.
Heat the olive oil in a large, deep skillet over medium to medium-high heat. Add the chicken and cook for approximately 4-5 minutes, until no longer pink in the middle, stirring and turning the chicken pieces occasionally to brown on both sides. Lower the heat to medium-low and add the garlic, cook 1 minute, stirring frequently.
Add the butter to the skillet, when the butter melts add the flour and mix well. Cook for 2-3 minutes, stirring almost constantly. Add the milk, and Parmesan cheese to the skillet. Stir, while gently scraping up any bits off the bottom of the skillet, continue stirring until the ingredients are combined. When the sauce comes to a simmer, cover the skillet and cook approximately 10 minutes, stirring occasionally. Keep the sauce at a simmer, if it starts boiling too vigorously, lower the heat.
While the sauce cooks make the pasta.
Drop the pasta in the boiling water. Cook the pasta to package directions for al-dente. Remember to salt the water and to stir frequently. Before you drain the pasta, reserve about a cup of the cooking water, drain the pasta and set aside.
While the pasta is still hot and steaming, add it to the creamy sauce. Add about ¼ cup of the pasta cooking water and stir until the ingredients are combined and coated with the sauce. If the sauce is too thick, add a little more of the reserved pasta water and stir well.
Taste the pasta; add salt, only if needed.
Sprinkle the top of the pasta with the chopped parsley and diced tomatoes. Serve immediately with extra Parmesan cheese, if desired.
Serves 6